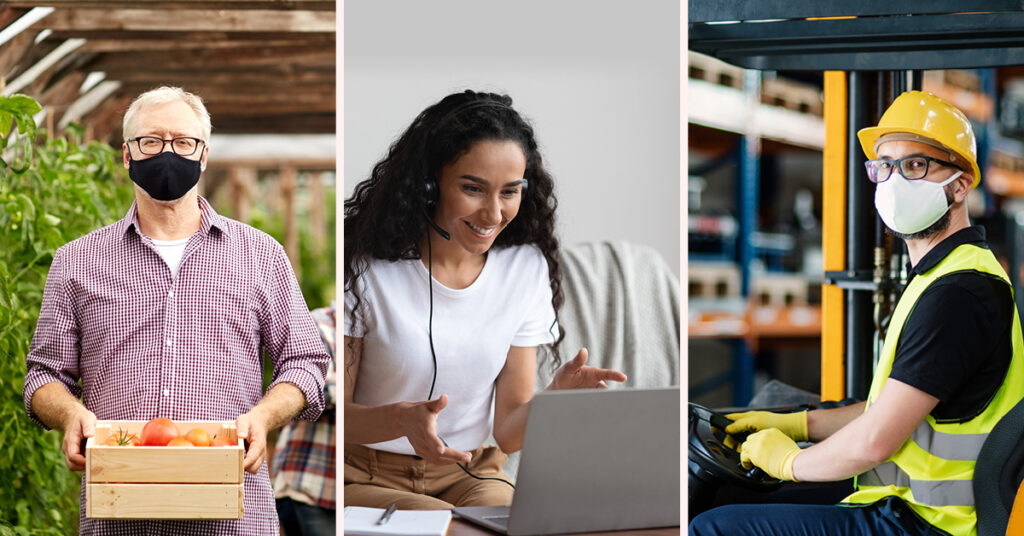 Many businesses are now looking ahead to a world beyond the COVID-19 pandemic and laying the groundwork for hybrid workforce strategies. While we are advocates for a remote-first staffing strategy, we realize that can mean different things depending upon each client's unique operational structure.
We recently asked a group of business leaders to share their thoughts on how they are planning to run their business as vaccines become more readily available throughout the world. Common themes emerged, and it is clear that while many will remain fully remote, others will adopt a hybrid workforce strategy. There are several strategies for adopting a hybrid workforce model. We outline five hybrid workforce strategies below, along with quotes from business leaders who will be implementing the corresponding strategy.
Strategy 1 – Staggered Work Schedules
While there are strategies for monitoring your remote workforce's performance, sometimes business leaders and employees prefer to have some time in the office. Sometimes the organization has established a culture that is reliant on face-to-face communication. And sometimes everyone is happy with maintaining agreed-upon safety protocols in the next phase of reopening. While this can be a cost-intensive option, there are smart and responsible ways to offer and manage a staggered work schedule for employees. In this scenario, everyone works part of the week at home and the other part of the week in the office.
"Eventually, I see companies moving to a hybrid solution model of providing the option of offices with a combination of remote work. With anonymous feedback from our team, we're instituting a Gainful-specific system of health & safety procedures. We've invested in surgical-grade air purifiers for our office, touchless thermometers, hand sanitizer stations, as well as mandatory masking, physical distancing, and cleaning protocols. All this, and we'll still only be letting a handful of people into the office using a digital sign-in sheet that is available to the entire company. What is clear, however, is that we won't be going back to a full, 5-day, fully in-person workday for many months. And there's a good chance we'll never truly return to that model." – Eric Wu, Co-Founder and COO at Gainful
Strategy 2 – Role-Based Hybrid Workforce Strategies
While staggered work schedules is a great hybrid workforce strategy, it just can't work for all roles. Some roles require physical work that simply can not be replicated in a remote work environment. In a warehouse or manufacturing plant, the staff responsible for interacting with the physical items, such as inventory and machinery, simply can't remain at home and do that job.
However, there are other roles, like those responsible for customer service chat on an e-commerce site to assist customers who want to buy those items being manufactured and warehoused, who can very easily remain at home and do their job well – perhaps even better than when in-office. This strategy evaluates each role and determines if it is suitable for working remotely. If not, then the person in that role is required to work in-person. This also helps those employees with physical jobs have fewer points of possible contact with COVID-19 and makes it easier to maintain physical distance from other employees.
"Having a hybrid workforce makes the most sense for the majority of businesses. If you can keep those whose positions do not need to be in person at home, then you will be able to keep team morale high and everyone satisfied. In reality, there are a handful of people who want to get back to the office and a handful that wish to stay home. So long as people are able to keep up with their job, they should be able to work wherever they feel most comfortable. If someone has been working extremely hard over the past year at home and still wishes to work from home, then why should you throw them off their groove and have them come back? Talk to your employees directly and do what you can to keep productivity and team morale as the top two priorities in your decision." – Joshua Tatum, Co-Founder of Canvas Cultures
Strategy 3 – Department-Based Hybrid Workforce Strategies
Similar to the role-based hybrid workforce strategy, the department-based strategy evaluates which departments are best suited for working from home or in-person for the long term. This is a simpler approach than the role-based approach since it requires evaluation of the department as a whole, and not down to each and every team member. This can also alleviate any potential HR issues. How so? Viewing the department as a whole can help ensure staff members don't feel singled out or unfairly categorized for a non-preferred work environment situation.
"Prior to the pandemic, our entire employee base (of 20) were operating in an office space. Since the pandemic, we've all been working remotely fairly efficiently, with some hiccups here and there. As things start to reopen and we can return to the office, we're going to continue with the spirit of remote work in some areas, whilst returning other departments back to the office for a hybrid workplace. The reason we're doing this is because we've actually seen some major improvements in certain employees' work since we began working remotely. We, therefore, want to keep them remote to maximize productivity. We've discussed this with all of our employees and some agree with returning to the office while others want to remain remote. By the end of 2021, we aim to be running about half of our workforce at home and the other half in the office." – Teri Shern, Co-Founder of Conex Boxes
Strategy 4 – Location-Based Hybrid Workforce Strategies
Perhaps, prior to the pandemic, your business was structured with multiple locations. And perhaps those locations were selected and structured based on job roles and departments. Great! Another strategy to consider is a location-based hybrid workforce. Perhaps you grow flowers and everyone in the nursery location has to show up in order to tend to the flowers, while everyone at the office location is busy with online sales, digital marketing, and bookkeeping; so that location can go fully remote. Whatever the case, a location-based hybrid workforce strategy can still pose situations where you may need to rethink how business functions are done in person. Proper precautions will need to be taken if the same pre-pandemic staff numbers are inside a physical location together, so plan well for health and safety if you have this option on the table.
"The majority of our 45 person workforce here at Titoma are engineers who often need access to equipment in our Taipei, Taiwan facility. After seeing that our other departments are just as productive working remotely, we have offered those 10 people the option to continue doing so. As restrictions in the US are lifted and the economy strengthens we will be hiring as necessary. These new hires will be offered the option to work from home as well. This shift makes sense for us because remote work allows our people to take care of things outside of work easier, and reduces absence. Such as in the case of having a sick child home from school." – Keesjan (Case) Engelen, CEO of Titoma
Strategy 5 – Employee Choice of In-Office or Work from Home
While some businesses opt for expensive third-party consultants to swoop in and reshape their organization, who better to consult on your workforce strategy than your own employees? Many businesses had the luxury to go fully remote during COVID-19 lockdowns. However, they may have employees with a mix of personalities (Guy who made the two-hour-long office rounds every morning, we are looking at you!), homelife situations (If someone has six kids, four pets and their mother-in-law living with them, can you really blame them for wanting to be in the office? Talk about a Calgon moment!) and opinions ("This is the way our business has always run in the past, why change it?") on the best work location for themselves. One way to certainly make everyone happy is to ask your employees. Develop a simple survey and have them choose if they will continue to work from home or return to the office. A bonus is that you can probably count on enough employees staying remote that you will be able to cut costs significantly on rent once your current lease is up.
"We are a London-based eCom startup with a team of 25 people. Before the pandemic, 100% of our team used to work from our office space in London but after the pandemic we expect only 50% to be back in the office with the other 50% to work remotely even after the restrictions are lifted. This approach seems right for our business because if it wasn't for the option of remote working, we would have a very limited talent pool. The remote working has made our hiring more diverse and allowed us to recruit talent from all over the country.
It also saves us money on having a large office space to accommodate everyone while keeping our employees happy with the benefit to work from home.
We are actually adopting a hybrid approach where even the office-based workers have the option to work remotely most of the time if they want." – Antonio Wedral, Co-Founder of NOVOS
Which hybrid workforce strategy do you feel best fits your business's unique needs? While these all fall under the umbrella of a remote-first strategy, they all post their own unique challenges of running two strategies in parallel. Of course, our favorite remote-first approach is a fully remote global workforce, but we help businesses with every possible remote-first scenario. If you are interested in learning more about our services and what we can do to help your business go remote-first, while saving you time and money, shoot us your questions.