Virtual Assistants for Adult Educators
We'll help you get administrative tasks done for less.
From job placement outreach, prospect follow-up, and an endless loop of paperwork and administrative duties, you have your hands full. Providing training, certifications, and other in-demand job accreditations is something to be proud of – but it can be difficult to feel great about what you do when you're drowning in a sea of paperwork and tasks.
That's where we come in. We'll save you time. But we'll also save you money. Let's work together to:
Reduce your payroll by up to 70% with budget-friendly workers
Increase productivity with streamlined processes
Gain more time for high-level thinking
We do the messy legwork.
You see the results.
Job Placement Outreach Processes
You want to show a track record of success placing students into the types of jobs you trained them to do. With our proven processes, you'll be able to find placements and coordinate interviews more efficiently.
Go Virtual with Teaching Assistants
Get your expensive instructors off the clock as quickly as possible after class. Utilize cost-saving Virtual Assistants who will answer technical and administrative queries on the spot while filtering out questions best answered by the instructor.
Audit Attendance and Instructors
Let us take attendance and monitor class duration, student engagement, and quality of instruction – making sure your instructors are sticking to the syllabus.
Let Us Handle the Paperwork
Our global network of qualified professionals will file paperwork quickly and accurately, and will follow-up on open claims to ensure your business is paid for the work you do according to state and federal guidelines.
Make Remote Teaching Easier
We Are Working is remote-first, and we know how to optimize your remote learning experience. We can make getting online for remote classes easy for your instructors, so all they have to worry about is teaching.
Stick to Marketing Qualified Leads
"I don't have time to go through training right now. I just want you to place me in a job." Avoid hearing stuff like this. Our trained bookers will pre-qualify and warm up leads to save your sales reps time and to convert more sales.
What do our customers have to say about We Are Working?
"Their expertise and methods enable us to focus on growing the business with a team, processes, and systems that scale as needed." – Achieve Test Prep
By streamlining processes and hiring qualified, globally sourced talent, We Are Working has allowed Achieve Test Prep to get work done at 70% less per employee. They pay just 30% of what they historically spent to get the same work done.
Increase Sales & Efficiency + Decrease Costs
Make an Impact In just one week.
Get the Guide.
Did we mention the guide is free? Well, it's free. Learn how to get more done with less payroll. Where do you need help?
Conducting job placement outreach
Filing and following-up on attendance paperwork
Other tasks…?
Let's start dreaming up your stress-and-cost-reducing plan together, and see results in just one week.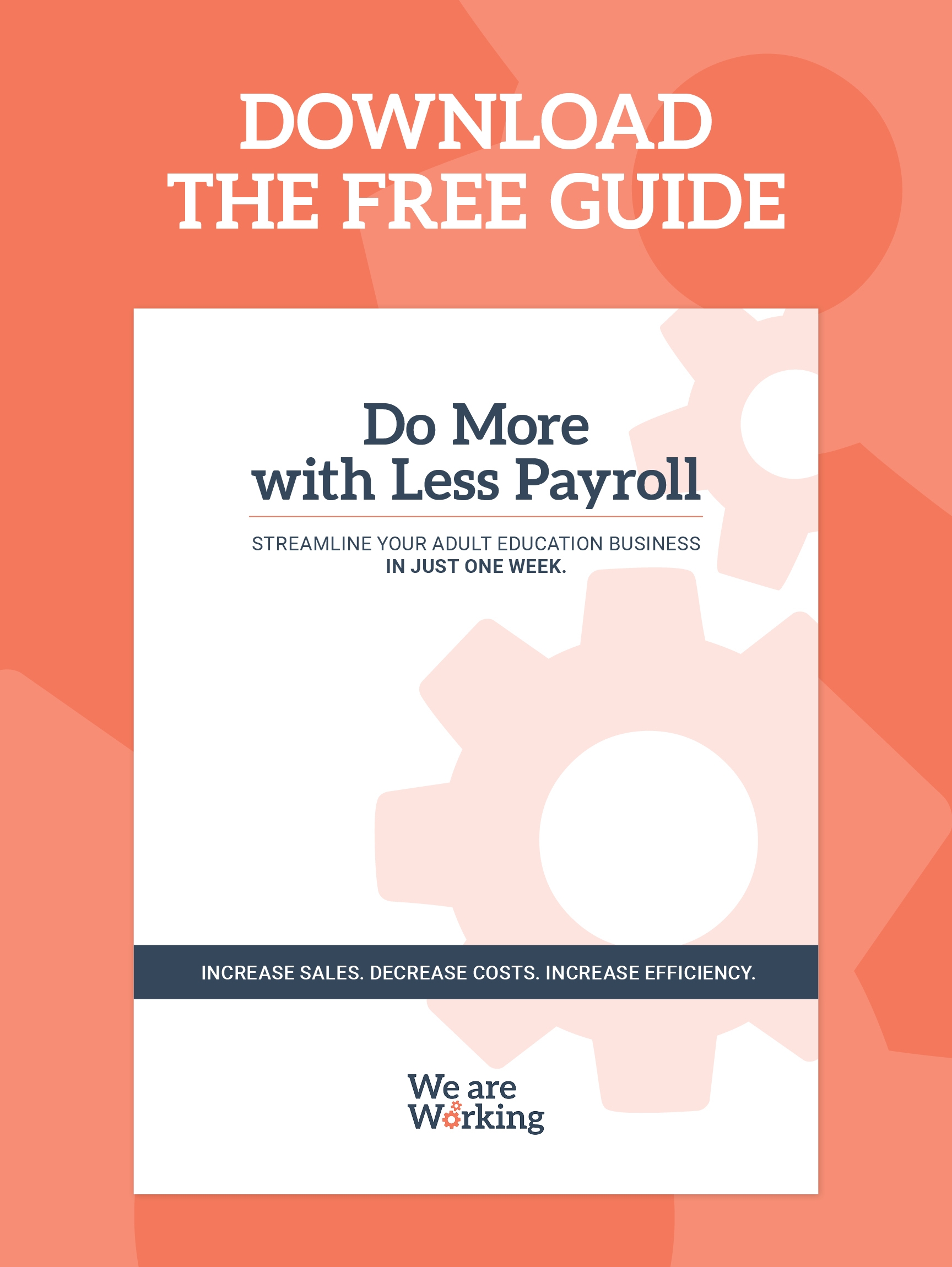 Why Choose We Are Working
A Bespoke Approach
Your business is unique. And your plan with us would be too. To ensure your success, we help you craft your dream plan, enabling you to choose your own specialists for however many hours you need. All led by a U.S-based Customer Success Manager as your dedicated point of contact.
Streamlined Processes
Making your life easier is what we do best. And we do that in a lot of ways. But one of them is by building out standard operating procedures unique to your business.
Monitoring Service
We capture everything and report back to you. From monitoring instructors, virtual teaching assistants, and more, you'll have a firm grasp on how your business is running.
The Right Price
All this, for a fair price? It can't be. Can it? The short answer: it can. With our global network of qualified talent, we know how to staff and work strategically to save big on cost.
No Minimums.
No Long-Term Contracts.
When We Are Working for you, you'll only pay for the hours worked – no monthly minimum, no long-term agreements. Just pay for the service you need for your business when you're using it.
Full-Service Management
Hiring employees — especially hourly workers — can be one of the most frustrating parts of running a business. So, let us handle that headache for you. When it comes to hiring hourly employees, we will handle everything. And we mean everything, including the HR paperwork, onboarding and training new workers, monitoring them, supporting them, and coaching them. Oh – and their computer and internet connection… we've got that covered too.
Frequently
Asked
Questions
Got questions? We've got answers. Check out these Frequently Asked Questions and answers, or schedule a free consultation with us to get your unique questions taken care of.
Can I interview the candidates you find for me?
Yes. Using skills tests, experience criteria, and our own interviews, we'll narrow down the pool of candidates to 2-3 that will work well for you. You can further review their profiles and interview them to choose the person you like best.
I'll need my virtual teaching assistant to work for 40 hours a week some months, and only 2 hours a week other months. Is that okay?
Yes. Our services are designed to be flexible. Your virtual teaching assistant will work when you need them to work, and they won't when you don't need them.
What if I need a second worker after the first month?
We can't wait to get that call from you. We'll restart the process of finding you a new assistant. We'll get them onboarded and trained, making the process as seamless as possible for you.