Implementing Improvements to Customer Service Chat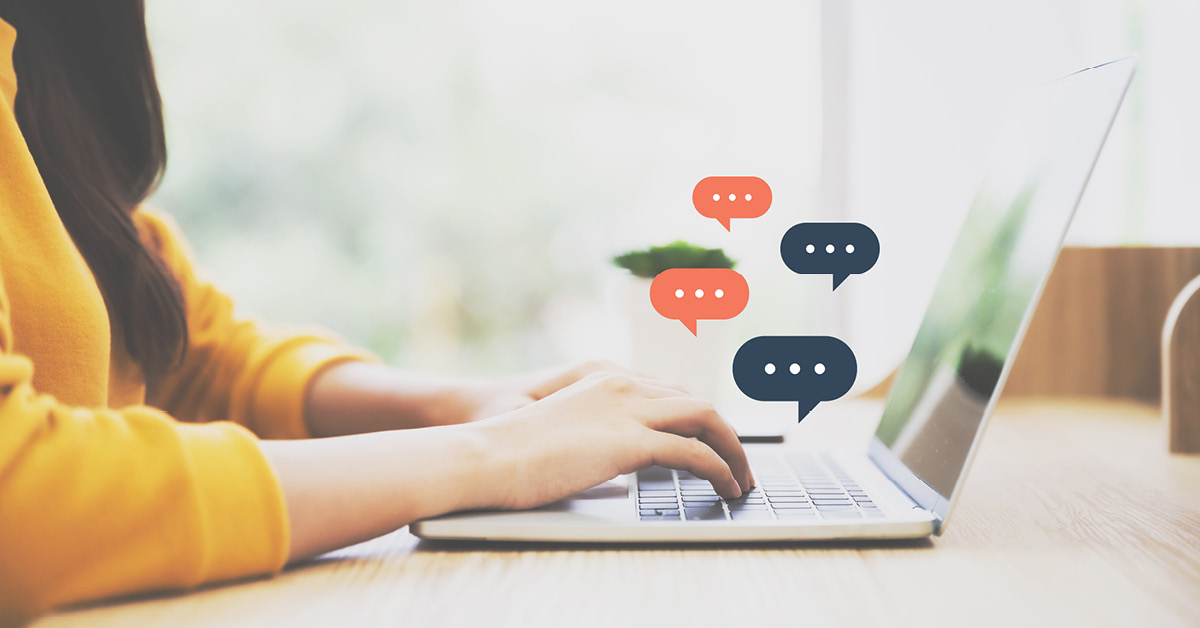 In the first article of this series, you got to see how our client was experiencing some of the pitfalls of chat for customer service. The groundwork was then laid by our team to begin improving our client's customer service chat through a data-driven strategy. Now, the fun part, implementing the changes.
Implementation #1: Expand Customer Service Chat Hours
The first goal we tackled was to expand chat hours. The simple answer here would have been to expand chat to 24/7. But, when we dug into the data (if you are using a chat platform, you should be able to easily see this data for your site), we saw that chats were coming in pretty regularly for about 6 hours after the client's regular business hours. And, though the client was staffing customer service reps as early as 8am – their customers weren't reaching out on chat until the afternoon.
So, they were offering a 10-hour window of chat support each day, but their customers were only using it for about 6 hours. Then, they were logging off when their customers were ready to chat. Leaving customers 6 hours a day to be disappointed that customer service wasn't available.
"…49% of users will unfollow a brand [on social media] if customer service is poor…" YPulse
The net effect was that they really only needed to expand their customer service hours from 10 hours a day to 12. They just needed to shift when those hours were available to a timeframe that better fit their customers.
They didn't have to increase availability from 10 to 24 hours. Whew!
The Result of Increased Agent Availability
Within a month of implementing the new schedule, we saw improvements in the key metric: Agent Availability. This was measured by recording all chats initiated by customers, and noting if an agent was or was not available.
We started with a baseline in July of 87.7%. That meant that for every 100 customers who attempted to chat with a customer service rep, there was someone standing by to help 87.7 of them. That also meant that 12.3 of them were leaving the chat experience dissatisfied.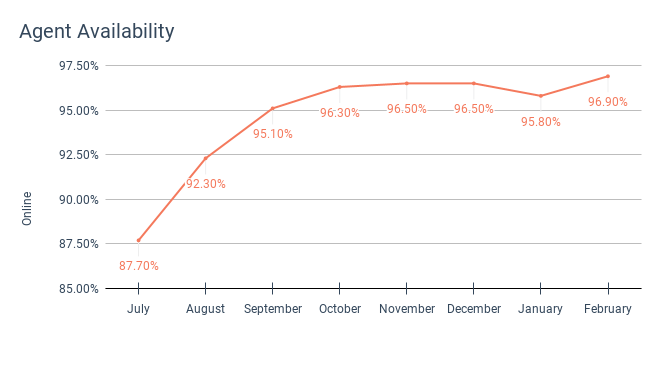 By August, we see the shift in the schedule and the additional hours making a positive impact. By October, we had hit a stride.
At that point, we had a discussion with the client. Was it worth adding more hours in an attempt to get 100% coverage? After looking at customer feedback and noting a decline in complaints specifically about chat availability – the client decided that 96% – 97% availability was an acceptable range.
While we had reached that mark, we kept tracking. In January, customer behavior shifted, the hours that customers wanted to chat were changing a bit based on the day of the week. We recognized the trend based on this metric and shifted the chat hours to meet the changing demand. The Agent Availability metric bounced back into the acceptable range with just a month.
The Role of We Are Working in this Implementation
We Are Working played a key role in implementing this solution and driving this improvement. Not only did we provide guidance to help the client understand the problem and how to solve it – we provided the labor. We hired, onboarded, trained and now monitor and coach the chat operators.
Shifting the customer service hours to increase Agent Availability meant staffing from noon to midnight EST on weekdays and a handful of hours on Saturdays and Sundays. The client could have hired employees in the US for this. However, at $12 – $15 for minimum wage, plus taxes, payroll expenses, and the overtime for nights, weekends and holidays – the client would have had a hard time justifying the expense of maintaining 96% Agent Availability.
But, with remote workers located across the globe and very clear processes – we were able to provide this significant improvement to the client for just $500/month in hourly wages. Plus, after a few months of using our chat operators, they moved more expensive US-based customer service reps to other important roles. As a result, they ended up saving 70% on each replaced position.
The net effect is an improved Agent Availability and an overall decrease in the costs of supporting chat as a customer service channel.
Implementation #2: Reduce Chat Response Time With Designated Customer Service Chat Reps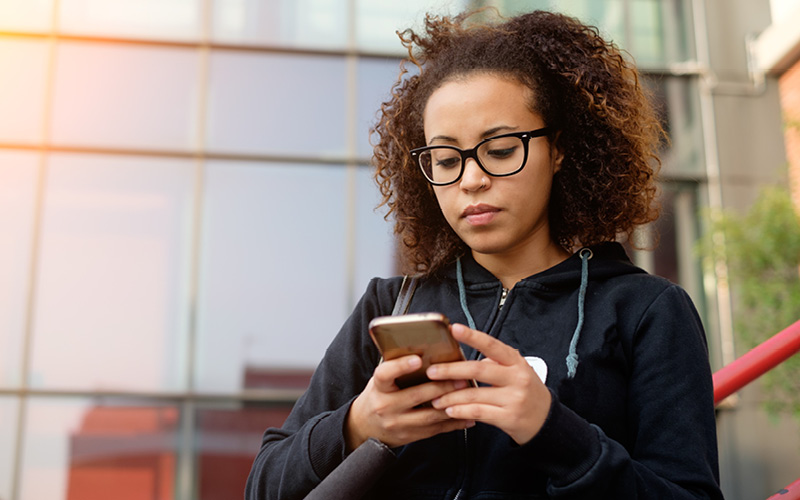 As we discovered when looking into the issues the client was facing, their customers weren't the only ones who weren't satisfied with the chat experience. Their own customer service reps felt like they were getting further and further behind. Trying to keep up with incoming email, phone, and chat requests was a challenge.
Their response times indicated that their feelings were right. They weren't keeping up.
Customers asking to chat were waiting an average of 60 seconds to get a response.
Wait a Minute?
At first blush, 60 seconds doesn't sound that bad. What's a minute? You wait 15 minutes for coffee, 3 minutes to pop some popcorn, even 30 minutes for takeout delivery. But when you consider who the customer is, 60 seconds is an eternity.
Remember – we're talking about Gen Z and Millennials – the connoisseur class of digital natives. They are on their phones spending a few seconds on every screen before moving on to the next. They click the "chat" button to contact customer service and if they aren't into an engaging back-and-forth chat within a few seconds, they are closing the window and popping open another app. You can only hope it's not a social media app where they are going to complain about your customer service.
You can hope…. Or you can try to improve response times.
With the feedback we had from the existing customer service reps, we decided to see what would happen if we took chat out of the mix for most reps and designated a few reps who were given the mandate to drop everything and answer incoming chats when they saw them. They were still able to do data entry, research open issues and other customer service work. But, they weren't answering phones or working on projects that couldn't be dropped like a hat when the chat bell chimed.
The Result of Reducing Chat Response Time
Response times improved almost immediately, dropping to a 34-39 second range over the last few months.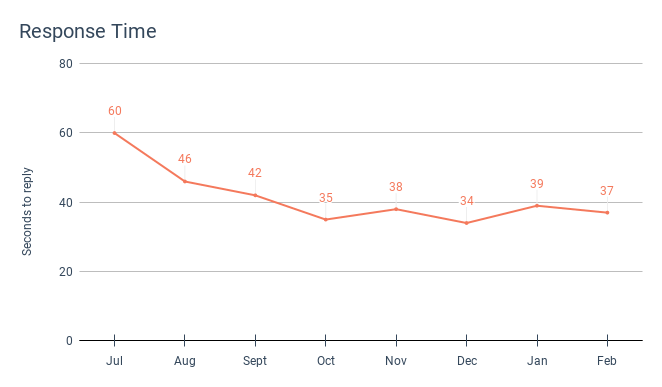 The reduction in response time had a measurable impact on the number of "Successful Chats" as well. These are the chats that were initiated by the customer and resulted in a back-and-forth exchange with a customer service rep.
When customers had to wait an average of 60 seconds for a response, only 73% of them waited around for the response. The other 27% abandoned the chat. As response times improved, so did the percentage of successful chats.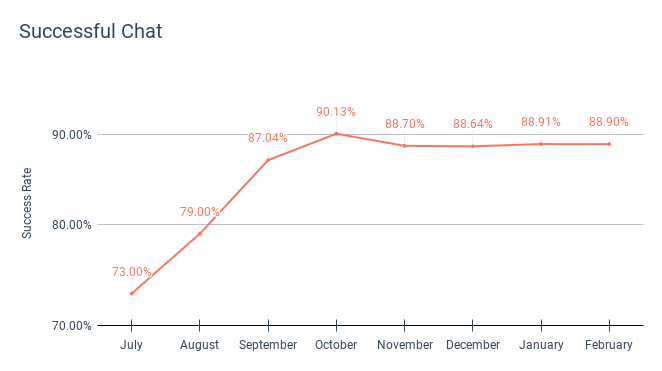 We're continuing to look for ways to improve the response time and decrease the percentage of chats that are abandoned. But, as it stands now, the client is able to make connections with more customers in need of support every day. Plus, fewer of them are abandoning the process and instead sending emails, calling, and complaining on social media.
The Role of We Are Working in this Implementation
This part of the chat improvement project gave us the opportunity to flex our monitoring and coaching skills. Using time tracking software that takes screenshots of the chat operator's activities throughout the day, we were able to see what they were doing and how their actions may be affecting their response times.
We looked at what was happening on the screens of operators that had better response times than others. We also looked at what other work the operators were doing when response rates were high and again when they were low.
Getting Into the Details by Monitoring and Coaching Remote Staff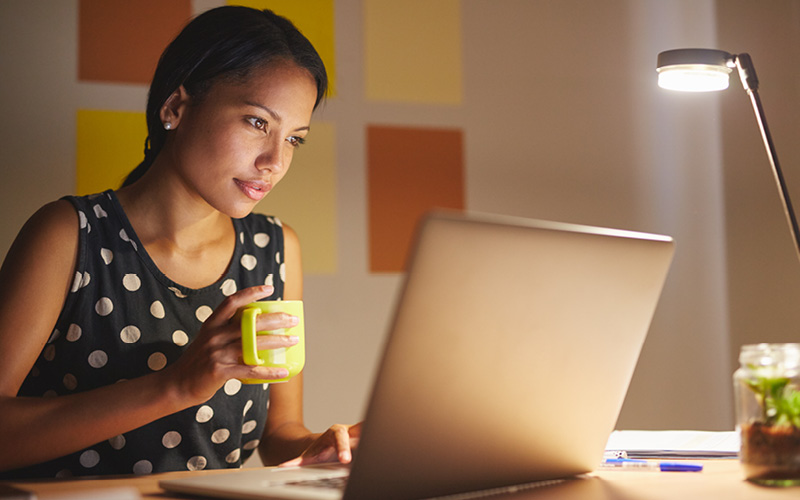 Simple choices like minimizing the chat window while investigating an open ticket in the company's CRM added almost 10 seconds to one operator's time just to find the right tab on his browser window. Coaching him to use multiple windows and close tabs he wasn't actively using helped improve his times.
Another operator was taking extra time to craft a custom greeting every time she picked up an incoming chat. It was taking her about 15 seconds to type a quick note each time. We coached her up on how to use the canned responses. As a result, her times improved little by little over a few weeks as the keystrokes became second nature.
The monitoring and coaching didn't add costs to the client. Our full-service staffing solution bakes in the monitoring software, the audit of each worker's performance, and the coaching and ongoing training.
What's next for our client?
The client still uses its social media channels primarily for marketing purposes. They direct those seeking customer service to reach out by email, phone and chat at the company's website. 
But, they know that their young audience expects them to engage before and after the sale on social media. And it is a best practice to provide at least the initial response to a client via the contact method they selected. So, the next challenge we'll address for the client will be taking what we learned in the chat improvement process and applying it to social media.
60% of customers who complain on social media expect a response within an hour. (Go Globe)
If you are interested in learning more about our services and what we can do to help your business, shoot us your questions or view the customer service chat case study related to this article.